Over the years, it's been proven that the most talented people get their jobs through networking. What's surprising is the fact that most companies still spend most of their hiring efforts using job postings.
Lou Adler is the CEO of The Adler Group, a consulting firm helping companies implement performance-based hiring. His latest book, The Essential Guide for Hiring & Getting Hired (Workbench, 2013)… Full bio
CEO, The Adler Group@LouA
Thirty years ago, a vice president in the human resources department at a Fortune 200 company told me that the firm's two best sources of talent were its university hiring program and referrals from recruiters and employees. Job postings were used largely to fill rank-and-file positions. A private survey conducted last quarter by another Fortune 200 company confirmed that nothing has changed in 30 years.
Despite the obvious, companies still invest enormous sums on job postings and then complain about the lack of great results. That's why I suggest companies shift their job board spend to targeted outreach and networking programs. Job seekers should reverse engineer this process and stop applying to job boards, shifting their efforts to gaining introductions through the backdoor.
How People Get Jobs Survey
I've had a survey running for the past two years asking people how they got their last job. More than 1,800 people have taken the survey. The graph shows results based on how actively they were looking for a job and whether they were employed or not at the time. The results of the most active job seekers are on the left and the most passive on the right. "Tiptoers" are those who are fully employed but casually looking.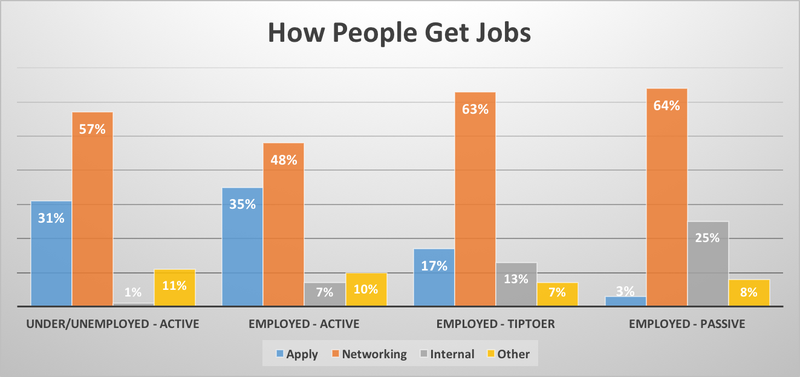 Read more here.